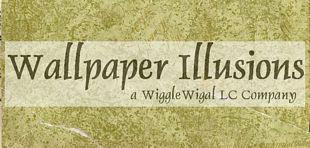 The Paper Illusions Place
Resource Center for the Original PaperIllusion Wallpaper
by Village and Newest Designs by Imperial
Wallpaper Illusions is the place to find Paper Illusions wallpaper information and products. Dedicated to meeting your needs, you'll always find the largest selection of Paper Illusions products and valuable resource information.
Paper Illusions Home | Paper Illusion Wallpaper | View Photo Gallery
Paper Illusions is the Easy Way to Faux Finish...Just 3 Simple Steps!

Step 1

:
Tear specially formulated faux finish wall paper randomly into irregular shapes.



Step 2

:
Dip each piece of this unique faux finish wallpaper into warm water.



Step 3

:
Apply the torn wet paper in an overlapping manner to your clean, flat dry surface.

Paper Illusions Customer Testimonial
I really like this product. The walls in our home were damaged from years of abuse, and even though I repaired them, painting was really not a good option. I found this product and have done two bathrooms, an entry hall, and a formal dining room. Each in a different pattern, each in a different color, and each with a very different look. This product is very forgiving and covers little imperfections with ease. It is very simple to apply and the scraps can be used for room accessories, I covered the mattes on pictures and reframed prints. I even covered the cold air return grates so they would not be so obvious. I really highly recommend this product to anyone who wants a very stylish look that is easy to get. ~ Gerrie Nowak
With PaperIllusion wallpaper, anyone can faux finish their walls, furniture, counter tops and more...all without painting! That's because there's...

No Paint Required for this Faux Finish

While paint is the central element in most faux finishing projects, it is not the only one. Besides being messy and time-consuming, it is toxic-smelling and can be complex, requiring multiple coats.

Faux finish wallpaper is an excellent alternative to paint...plus it's more durable.

But how can you just tear paper, dip it in water, and apply it to a surface to get results like this?
PaperIllusion is the Ultimate Faux Finish Wallpaper

Customer Testimonial

I have been using the various paperillusions wallpaper colors for the last 6 or 7 years. I love them because they look funky and are extremely easy to use, more so than regular wall paper. I also like that you can easily stick a piece over another piece at a later time if there is a mark or damage to the original, rather than having to rewallpaper the whole wall or room. I have used it in my last few houses and love it, though it is very difficult to find. ~ Michelle Bowden

PaperIllusion can be applied over any clean, flat, dry surface. Including walls & doors, ceilings & floors, furniture & fixtures, counter tops & cabinets and even sheet rock & paneling!

The paper is pre-painted with various faux finish effects, such as faux marbleized stone and florentine marble. And there's a textured effect built into the application as a result of overlapping the torn pieces.

So, unlike regular faux finish wallpaper, uneven, cracked or damaged walls are no problem for PaperIllusion.

You can just cover them up!

This easy-care product is also completely washable and a breeze to remove.

To remove just moisten with warm water and repeat until the pieces peel off.
A Perfect Wall Covering for Wood Wall Paneling!


BEFORE
AFTER

Unlike with regular wallpaper, Paper Illusions wallpaper does not require a wall liner over paneling to camouflage the grooves, provided they are 1/4" or less in width. This wall covering for wood wall paneling bridges the gap!

Just prep the walls properly: wash, rinse well and let dry. Then follow up with an application of a good quality wallpaper primer (Zinnser Universal is recommended). Your paneling is then ready for an easy and pleasing extreme makeover.
It's so easy and doesn't take a lot of time. With two little ones home with me I can't do projects that are too complicated or time consuming and this was neither. It was very simple and I've gotten a lot of compliments on it. ~ Kristie Briones
Available in Seven Different Faux Wall Finishes!
I used Paper Illusions to do my bathroom floors as I couldn't afford to ceramic tile them. Everyone who sees them is simply amazed. I did the bathroom walls tuscan red and used Multi on the floor as my fixtures are beige and the Multi has some burgundy flecks in it. It turned out beautiful... It looks like I installed a stone or marble floor. I used Satin finish Poly. What a difference.
~ Barbara (BeBe)
I just resurfaced my kitchen counter yesterday with Paper Illusions wallpaper...I am SO happy with how it turned out. Total cost was only $50 and it completely changed the look of my kitchen. I was very skeptical when I read about using wallpaper, but I (and my husband) love how it turned out. I highly suggest giving it a try. I am not a "crafty" person at all and this was a breeze. Here are some pictures of my finished countertops... (click images to enlarge)
...I was very hesitant to do this for fear of hating it and having to buy new countertops in the end. We love it though and have had rave reviews from everyone who has come over. People just can't believe it's wallpaper. At $50 total cost and about 5 hours of time I recommend it for anyone who hates their current counters.
~ Mandie
We used the Paper Illusions we bought from you to redo our kitchen walls (put up over primed wallpaper that wouldn't come off). We put a few coats of satin polycrylic over the top to protect it from spills. I took some photographs (pictured below) during the process for the heck of it... We're very happy with the results, and glad to be rid of the plaid!
~ Kaye Anfield
DISCLAIMER: The Manufacturer and Licensed Distributor of the PaperIllusion Product and Brand Name being offered for sale are the Owners of the Registered Trademarks, Trade Dress and Copyrights in said Product and Trademarks. WallpaperIllusions.com, being an entirely separate company, is not related to or affiliated with the Manufacturer or any of the Licensed Distributors of this PaperIllusion Product and Brand Name offered for sale.
Paper Illusions Home | Paper Illusion Wallpaper | View Photo Gallery
Copyright 2005-2020 All Rights Reserved | WallpaperIllusions.com